Rene Furterer Triphasic Vht Serum Concentrated Hair Loss Treatment x8 vials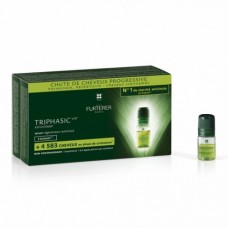 Brand:

Rene Furterer

Product Code:

2123

Availability:

Out Of Stock
---
Rene Furterer Triphasic Vht Serum Concentrated Hair Loss Treatment x8 vials
Want to stop hair loss and also help the development of more powerful and more beautiful mallion.I Rene Furterer advises progressive hair loss (hormonal and / or inherited) .
The TriphasicVIT TriphasicVHT, consisting of three active phases, combines the essential active , nutritional and stimulant ingredients to improve hair structure, to help develop and stop the fall. Act on all the factors responsible progressive trichoptosis.I original and katochyromenn this composition contains many natural substances, biologically active: vitamins, minerals, plant extracts, essential elaia.I Rene Furterer advises reactionary hair loss (due to stress, fatigue, egkymosynn ...): RF 80 .The RF 80, sumpyknoma plant extracts and essential oils, helps hair growth and normalizes trichoptosi.Dra directly to agents responsible for avtidrastiki trichoptosi.Kathe ampoule also contains natural peptides that stimulate cellular activity, vitamin and ichnostoicheia.Ta hair gain vitality again, volume and lampsi.
Apotelesmata: The TriphasicVHT visibly reduces hair loss, stimulates the development of healthier, stronger hair and regulates ypekkrisi smigmatos.To RF 80 normalizes and slows hair loss, the nutrients that help develop completely healthy hair.
Related Products