Carolina Herrera 212 VIP Men Eau De Toilette 50ML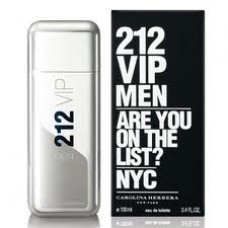 Carolina Herrera 212 VIP Men Eau De Toilette 50ML
Carolina Herrera 212 VIP MEN Eau de Toilette.
212 VIP MEN is the new masculine fragrance that completes the 212 VIP universe and represents the style and attitude of VIP men in New York,
Carolina Herrera
presents the 212 VIP masculine edition. Carolina Herrera 212 VIP Men Eau De Toilette fragrance reflects the style and attitude of the New York party elite, described as a party animal and nightlife scent, containing notes of gin and vodka. A man of this fragrance is a fun, charismatic and stylish, awakening lust and envy in others.
212 VIP Men
is run by the same slogans: "Are you on the list?" and "This is a private party."
Top Notes: Lime Caviar - Heart Notes: Chilled Vodka, Frozen Mint - Base Notes: King Wood
Related Products